Limited care staff and loneliness can be a challenge during the holidays
How can we change that?
Every year, care organizations have to deal with limited staff during the holidays which means they struggle to provide needful care to their clients.
Luckily, thanks to remote care, they can take care of more clients without working extra hours. They can even check on the well-being of the clients from their homes - giving that personal touch during the holiday season.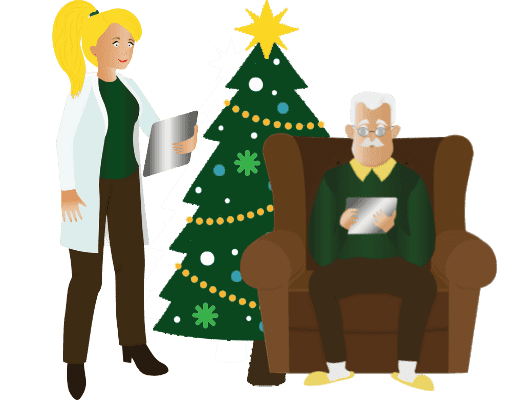 The solution?
Provide both in-person and remote care for free!
We will give you everything you need to incorporate remote care into your care services as smoothly as possible with no work and costs:
- devices (if needed)
- remote care platform
- set-up & introduction training
- help with anything you need
We will set everything up for you to immediately start using Oscar Senior.
During the holiday season...
48%
of care recipients
don't get the care
and support they need
76%
of care recipients
feel more lonely,
depressed, and sad
1.5 million
of care providers
have to be at work, which is more than any other group
82%
of care recipients
would be satisfied with remote care, it would help them not feel lonely
Before the pandemic, we needed at least 2-3 staff to provide daily support to our people. Now, after we implemented Oscar Senior, not all of them need that kind of support anymore. They are more independent, using drop-in support. If they need help with something, they just push a button and someone from The Arc will answer. The staff doesn't need to be in their private space as often so there is much more freedom in terms of how they're living. When they are cooking a meal, they can tune somebody in and say 'Hey, I need some help with the recipe can you walk me through it'. We basically leverage technology to expand our independence.
Provide remote care during the holidays for free
Our biggest wish this year is to make as many people happy as we can. We want them to be connected and filled with joy so they don't have to feel alone during the holidays.
That's why we are offering your organization, care providers/recipients, and their family members Oscar Enterprise completely free of charge for the whole holiday season.
What to do now?
1. Request our remote support services and we will send you your Oscar login and password.
2. Install Oscar Enterprise on your, care providers', clients', and families' devices.
3. You are now ready to provide remote care. Our team will walk you and your clients through the program.
We have a team of customer support ready to answer any and all questions.
4. After your free trial, you can then decide whether or not you would like to keep using Oscar Enterprise to provide the best support to your clients. If not, you can simply uninstall our service with no strings attached.
How does it work?
Manager of the care facility, the care providers and their care recipients install Oscar Enterprise on their devices. Afterwards, you can use our app basically the same way as phone. But our senior-friendly app has many useful features developed specially for care providers and care recipients.
Check it out by yourself!
Also, don't miss out our short video that will tell you more.
If you are still not sure, read our Guide or How it works or Contact us.
We will answer anything you need to know.