Share your vacation with your elderly loved ones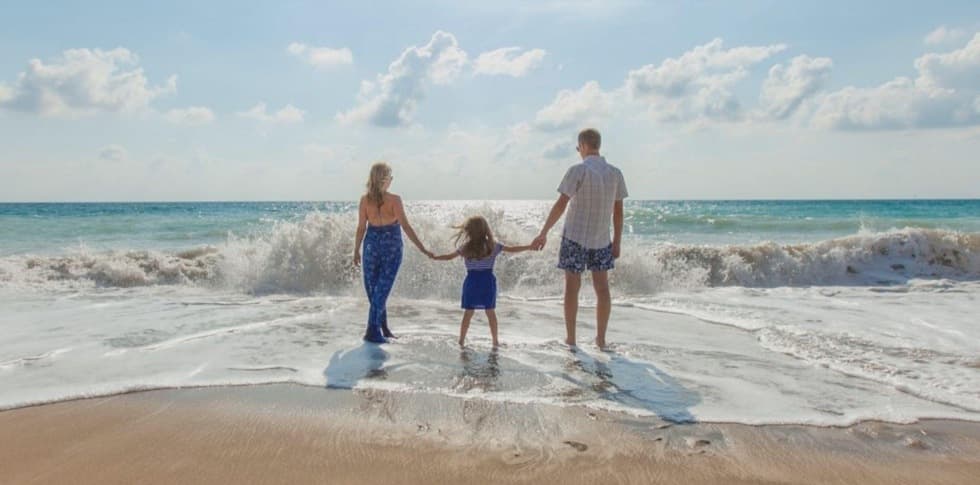 Summer is upon us and we're all probably craving some well-deserved relaxation. Lying in a hammock by sandy beach, a hike in the mountains – whatever your chosen vacation, your elderly loved ones may probably not be able to join you. Include them in your experiences. Stay in touch with them during your travels by connecting online. Read on to see how you can share photos quick and easy or video call them.
Update your loved ones with photos from your trip. You can send a quick panorama photo of the lake view from your tent or share the landmarks you've seen that day so family can see where you've been.
A quick phone call during your trip can comfort Grandma so she knows you're ok. But take a step further and try a video call. All you need is a Wi-Fi connection, perhaps in a café, or your hotel room, and hit the call button for a face-to-face experience. Show her around the campsite during a sunset using just your phone. Invite her in your travel experiences.
How to share your digital photos with Grandma
There are many options for you to share your photos online with friends and family:
You may already know about sending pictures via email, but there is usually a MB limit in that case so you can only send a few.
There is Google Photos but a Google account is necessary.
There are also a number of photo sharing apps you may find online.
However, take note that opening photos for the elderly whether it's via email or a standard sharing app, may be a technically challenging task for them. It's important to choose a solution which is easy for your senior to understand how to use.
A very useful tool built especially for older adults is Oscar Senior. This is an app you can download on mostly all smartphones or tablets. The tool simplifies the screen for your senior, making it easy for them to browse through a gallery of photos. What's best is that there is no need for you to buy a separate device for them to be able to use the Internet.
Share your photos via text message. Photos are now part of the chat:
Click the avatar and hit send message button.
In the bottom left corner there is an icon of a camera.
By hitting that you can share a picture directly in the chat between messages.
"Traveling has always been a passion of mine but I'm always worried about leaving my elderly mother alone. I've been calling her on my trips but now Oscar Senior has connected us in a totally new way. I video call her without any problems. She loves to see the places I visit. It's like she is there, traveling with me."
-Linda, Arizona, 32
How to video call your loved ones
Invite your seniors to share your vacation experience. Call mom from the beach and show her the grandkids building sandcastles or splashing in the water. Don't lose touch with elderly relatives who are craving for news from you, while you are away. It's very quick and easy to keep in touch, by using the right tools.
Oscar Senior helps you maintain a connection even from a distance. Calling each other via video can make the experience even more personal. Involving your talking partner in your vacation experience will make them feel important and loved, helping them know that you are thinking of them even when you are away.
To pick up a phone call was never easier for seniors
For older adults, just picking up an incoming call can be difficult, especially those with reduced mobility, disabilities and dementia. With the Oscar Senior auto answer feature, you can start and also answer a call so your elderly loved one gets connected with you without touching the tablet. How?
In the app go to "Contacts tab" click the contact you'd like to manage and then click the "Manage remotely" button.
This will take you to the "Remote management" of your senior's device. Once you have the remote management opened on your smartphone, click on yourself (your own contact icon) and you'll see the auto-answer call option.
Call all your family members at once
Another exciting feature in Oscar Senior is group chat and call. This feature allows multiple users to be in the same video call. Call mom with your brother and the three of you can video chat online. Maybe you'd like to discuss the next time you go up to visit. Or one of you has important news to share. The group video option allows up to 4 users at one time. Check out our step-by-step guide on how to use this fun feature.
Stay in contact with your senior on vacation
Even while you're away, don't forget to maintain a connection with your elderly relatives who may be experiencing loneliness in their everyday lives. They may be living alone or in a retirement home. Hearing from you is important for their mental wellbeing. Keeping contact will help your seniors worry less, feel loved and cared for, and be excited to learn details about your travels.