Video calling solutions for tech-challenged seniors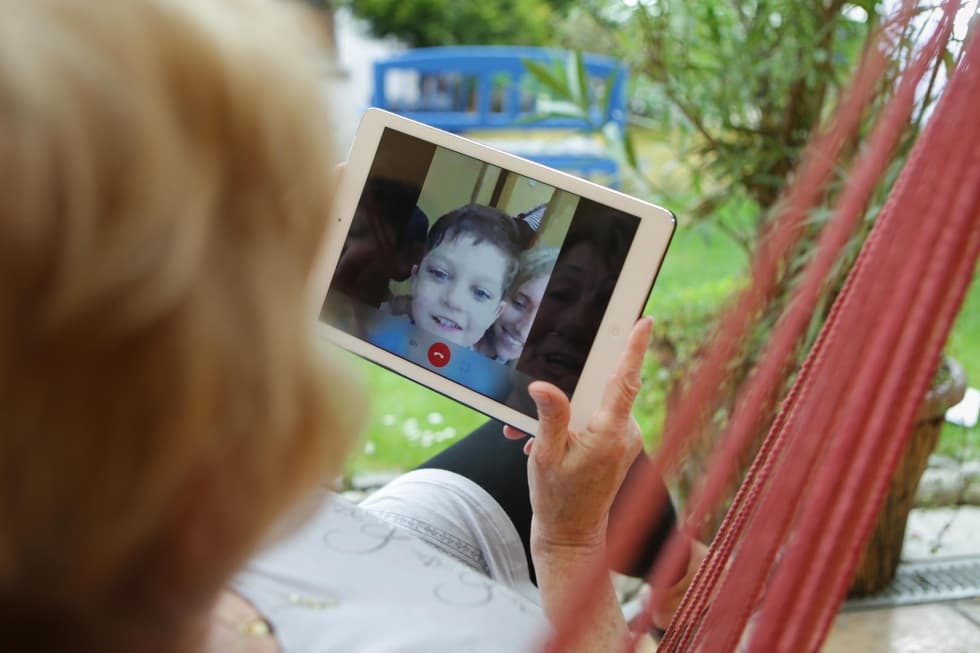 Remember just several years back how futuristic video calls seemed? It's incredible that over such a short span of time, you can now see your friend in an online video call. What makes it even more incredible is that any one of us can access this reality. Video chat has reached the masses, it can be used by everyone, no matter their age or technical ability. Let's take a look at a few video calling options you can try with your senior.
What's very useful and convenient is that users don't need any special computer knowledge to enjoy video chat. These apps and devices greatly simplify the use of technology. If you are looking for a tool to help your elderly relatives communicate with family, look no further, we have the best recommendations for you.
ViewClix with a special slideshow feature
The ViewClix Smart Frame is a picture frame that includes a video feature. Seniors are provided with a constant visual connection to family and friends since the device is always ready to receive a live video call. Users can view a high definition slideshow with the latest family pictures. Whenever a new picture is shared, the ViewClix Smart Frame receives an instant notification to download and display it.
The ViewClix Smart Frame can be remotely managed by a chosen family member or friend. The remote user, or Organizer, can log in to the ViewClix Cloud with any web browser using a notebook or tablet after downloading the app. They can set how long each slideshow picture is displayed and whether the ViewClix Smart Frame should go to sleep during late night hours.
Amazon Echo Show with voice-activation
The Amazon Echo smart speaker includes Alexa and a built-in smart home hub. Video calling with Echo Show is very easy to do especially for elderly users since it can be voice-activated. To start a call from the Echo, the user just needs to say "Alexa, call Joe." You can turn off the video by saying "Video off" after the call has started, or by tapping the video button on the screen. However, take note that you can only call people who are in your contacts and also have an Echo or the free Amazon Alexa app installed on their smartphone.
The Echo Show can also manage a large variety of tasks with voice-activated access. Users can ask Alexa to play music, share a recipe, broadcast live TV, and even check who's at the front door.
Oscar Senior simplifies the device you already own
Oscar Senior is an online platform that simplifies the smart device, so there is no need to buy a separate device. It works on nearly all smartphones and tablets. The software is an all-in-one solution especially created for the senior audience in mind, with its simple, bright, and uncluttered design. Elderly users will not get confused and discouraged when using this technology.
Video calls can be made and received with just one touch on its intuitive interface. The app's useful auto-answer feature allows video to start without seniors having to answer. Family can check on their senior whenever they need. This can be set up remotely by the chosen admin, a family member or friend.
Group video chat is also available in the app, meaning multiple users can participate in one video call. Organizing a surprise party for Grandpa? Call mom and your siblings on Oscar Senior and start planning it together!
GrandPad is a tablet for seniors with no tech skills
If you are looking for a specific device for your elderly loved one, the grandPad by Acer is a touchscreen tablet designed for seniors 75 and older. Created especially for the elderly, thus the ingenious name "Grandpa(d)", the tablet provides a basic menu of large icons and text to only essential features.
Grandpa or Grandma gets one-touch access to make and receive video calls, as well as play games, check news, etc. What's important to note is that to simplify usage and avoid confusion, the device does not offer web browsing. Home Wi-Fi is not necessary: Verizon 4G LTE connectivity is built-in so it works anywhere within the Verizon network.
Acer has partnered with Uber in the U.S. to provide pickup and drop-off services for seniors. If you purchase a grandPad for a senior, you'll have the opportunity to choose where they are allowed to go such as your house, the local store, and more. The GrandPad is a subscription-based, monthly 4G service.
Video calling is now an easily accessible tech option for anyone, a communication solution that has revolutionized the standard phone call. Easier to use than text messaging or emails, seniors can get great satisfaction from quick and simple, yet interactive communication.
Choose the best for you: a device created for seniors, or an app you can download on an existing device. Your choice also depends on the tech ability of your senior loved one. From voice-activated calling, to more independent use, there is a wide variety of powerful, senior-friendly video communication tools on the market today.