How to age in place comfortably with Oscar Senior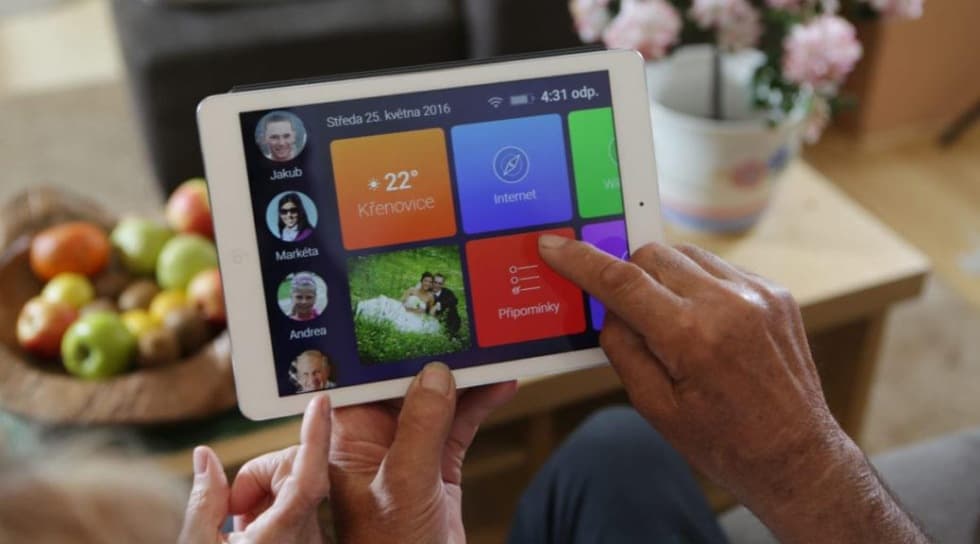 As our parents get older, we might want to check on them more often. We would like to make sure that they are healthy, safe and secure. Since many families today are spread out across the country or even continents, staying in touch and taking care of the elderly family members has become a challenge. Read more to find out how Oscar Senior helps to age in place comfortably right now!
As a founder of Oscar Senior, a tablet application for seniors, I discovered the need to provide an easy and secure way for the elderly and their family to stay connected and cared for, no matter the distance. The Oscar Senior app converts your parents' tablet into a senior-friendly device, which is easy to use even by those who are not tech-savvy. There are many useful features that make Oscar Senior so popular among the elderly, and which help them age in place for a longer time. Here are some you might be interested to try.
Talking "Face-to-face" on video
Although writing letters or talking on the phone is a well known practice by our seniors, today these methods to connect are becoming outdated. Many caregivers are looking for better, more sophisticated ways to communicate. Hence video calling.
Face-to-face conversation allows us to check on our seniors more efficiently and address issues immediately. Communication by mail or phone calls simply does not give us the same level of interaction.
Thanks to auto-answer video calling, you can call your parents and answer from your own cell phone, remotely. This comes in handy when your parents are not paying attention to their tablet at the moment, and therefore don't see you calling.
Enjoying family photos on a tablet
Sharing memories and experiences by sending photos to our elderly parents is a great way to update them on our lives. It's a fun way to strengthen your bond and make them feel closer to you.
Many of our seniors may be feeling neglected or lonely and thus suffer from depression. Remind them that they're still in your thoughts even though you are far away, with pictures. Their faces will light up with joy. Just like other parents, they might like to share photos with their circle of friends and show off their children and grandchildren.
To make photo sharing even more interactive, give them a personal tour of your vacation by showing your beautiful snapshots during your video call. You can see your partner on screen while showing your pictures!
Managing medication effectively
With advancing age, the amount of pills seniors have to take on a daily basis increases. Many are required to take several different types of pills throughout the day and at specific times. For many who suffer from dementia or memory loss, difficulties arise in keeping track of all the medication.
That's why the Oscar Senior Reminders feature can help them get organized. This option allows you to set up a reminder that sends a sound notification and pops up on your senior's screen even when their tablet is not being used. This way no dose is missed or behind schedule.
Reminders can also help with remembering doctor's appointments, family birthdays, special events, or even a senior's favorite show on TV.
Reading the morning news
Does your senior also enjoy following the news along with their morning coffee? There is nothing easier than setting up their favorite news site on Oscar Senior. No need to type the whole url to access the site.
They have all the news available to them with one tap on the screen. Set up access by clicking on the tile NEWS. Then the plus sign to type in the URL and save it.
Being social on Facebook
Using social media has been increasingly popular not only among young people but also among seniors. A recent study of 365 people of the age of 60 revealed that social bonding is a major motivation for participating in most activities on Facebook. A lot of seniors feel lonely and want to reconnect with their old buddies or develop new friends with similar interests in Facebook groups. Seniors also love to keep tabs on their favorite TV stars and other famous people or play games. That's why Facebook is like an entertainment center to them.
Research shows that each generation lives longer than the previous one, and people prefer to age at home longer. Adapting to technologies like Oscar Senior allows the elderly to stay independent and provides the caregivers with peace of mind.
To get your peace of mind, download Oscar Senior now
GOOGLE PLAY
APP STORE
Have you already tried Oscar Senior App? Let us know in a comment below what you like or dislike about it.