Teaching my elderly parents to video call - a story of ups and downs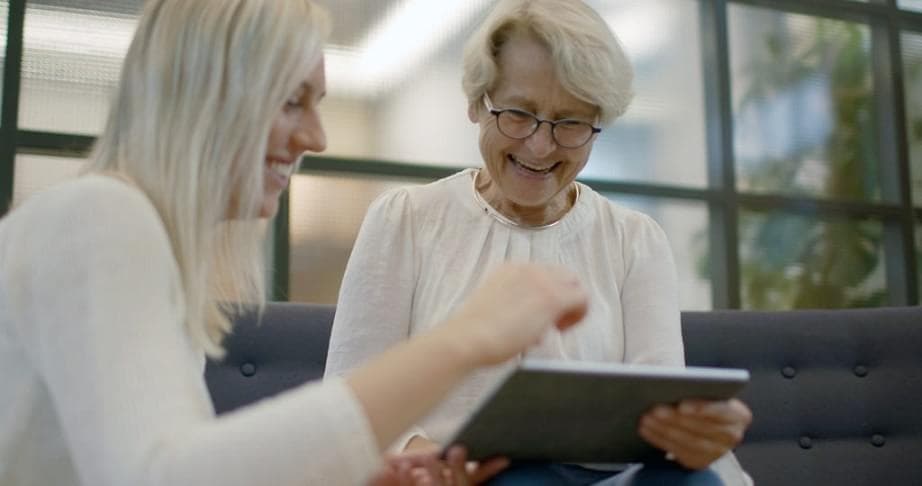 Many years ago I had left the family home for university and later settled down hundreds of miles away from my elderly parents. We kept in touch by phone calls and regular visits. Read further if you would like to know how me and my parents dealt with the communication issues over long distance.
But honestly, whenever I drove up to see them in person, I always noticed changes that affected me. I could see them aging. I could see that after all of us children have flown the nest, mom and dad have grown quite lonely. I wanted to strengthen our connection. After years of monthly phone bills piling up, we finally invested in a tablet so we could use the Internet to communicate more often. Then we found a very useful app specifically made for the elderly, which we used to video call each other, and it was the best decision we ever made.
I'll tell you our story.
The obstacles we faced when trying to keep in touch with my elderly parents
In 2015, when I bought my parents a tablet, I was under the assumption that soon we'll be Skyping away without any major obstacles. They were more than thrilled about the opportunity to call and even see me while we were talking. For them, such advances in technology were riveting.
But little did I know how hard it would actually be!
Then all the small icons on the screen were quite confusing. It was hard for them to remember exactly which was the icon to open the application for calling. So they were clicking here and there on the icons on the screen, but ended up logging in everything except to what they really wanted. If we finally managed to start a video call, sometimes we couldn't hear each other because they had the headset unplugged or the audio or mic was turned off inside the app.
Other times ads would pop up and when they would click to accept the call, they would accidentally open the ad instead and get lost on the tablet because of the browser which had just shown up on the screen. It was frustrating to say the least! Very soon we were wasting so much time just trying to talk. I really needed to find something simple that would work on a tablet. So my next attempt was at Google hangouts, but this ended up being yet an even bigger challenge for my parents, since they needed to log in to an email account, and find the tiny video call button. We could only "hang out" a handful of times, the typing and searching just made it too hard to start a call.
Minimize personal visits by videochat during COVID-19 outbreak
Care providing companies
home care agencies and assisted living facilities get the Oscar Senior remote care platform for 2 months free of charge – it is ready to be used within 3 days.
Family caregivers
download the Oscar Family app in App Store or Google Play to stay in touch with and provide care remotely to your elderly – used to be 7 days free of charge, now it is free for 2 months.

I kept searching for other options for a simple video chat. The phone was still our first choice for communicating since it was what they were used to, and dialing me up was faster than fiddling around on the tablet. But at the same time, we could always see my parents' tablet in the corner of our eye, sitting right on their desk sitting next to the phone. It was absurd. I knew there had to be some way we could make video chatting easy for both of us.
We found a solution with a senior-friendly app
I already heard about Oscar Senior from a friend, but I never considered it as a solution for our problems before. I imagined Skype would be more than enough, plus it was an app I already used daily at work, so I thought we were all set. But after our multiple failed attempts at video, I realized something had to change, so I decided to give Oscar Senior a go. It turned out to be fantastic. It's built with seniors in mind, and it was just what we needed to be able to talk live. Whenever I made a call, mom and dad just needed to "pick up the phone", except on their tablet. Easy!
First we downloaded the app on my parents' tablet with their very own account and set me up as a contact. Already this was very easy to do, so I thought, this is a good start! But then when the app was running, what we saw was awesome. My contact picture was always visible on their screen, which made teaching my parents how to use the app plain sailing. I told them to turn on the tablet and then click on my avatar whenever they wanted to ring me up. There was a big "Call" image they had to touch to call me. After we were done with the call, they just needed to touch the red button at the bottom to hang up. To accept my call, I asked them to touch the green button which appeared on the screen. Just a few simple steps for my parents to easily understand the workings of the app.
They mastered calling and accepting calls almost immediately, it was incredible to be honest. I also knew if anything should prove difficult while I was away, I could log on to their account and manage it remotely by becoming administrator. Without needing to explain things step by step, I can just rearrange icons, set up new features, or fix any issues myself.
How we've been using this new communication tool
The sound and picture quality of the video is high-definition and there is no need for surplus equipment for audio and video. There is nothing extra to adjust in the app once it is running, either. What's also great is that there are no pop-up ads to confuse users. Everything is simple and straightforward. The experience is exactly like talking on the phone, but surely the best part is that we can even see each other live.
My parents and I usually talk in the evenings when I am home. They on their tablet, me on my smartphone. Sometimes they watch what I am cooking and give me some pointers on how to make salsa or bake a casserole. Other times they show me the latest book they have read or an item of adorable clothing they have bought for the grandchildren.
We've been using Oscar Senior for the past year now and it's become the easiest way for us to keep in touch. I am so relieved that all the difficulties of starting a video chat are gone. My parents are comforted in knowing that they can call me whenever they need to, and they appreciate that it's only a couple of clicks on their tablet. Time has slowed down and we have grown closer. Now when I visit our old family home, I feel like we just met the day before, since I am consistently updated about how they are feeling and what they've been up to. It's definitely the most reassuring feeling in the world for all of us. I'd strongly suggest Oscar Senior to anyone who has elderly parents or grandparents and have lived through the same experience as I did.

Make sure to try Oscar Senior app if our story sounds familiar to you.