News and Updates at Oscar Enterprise Service - April 2022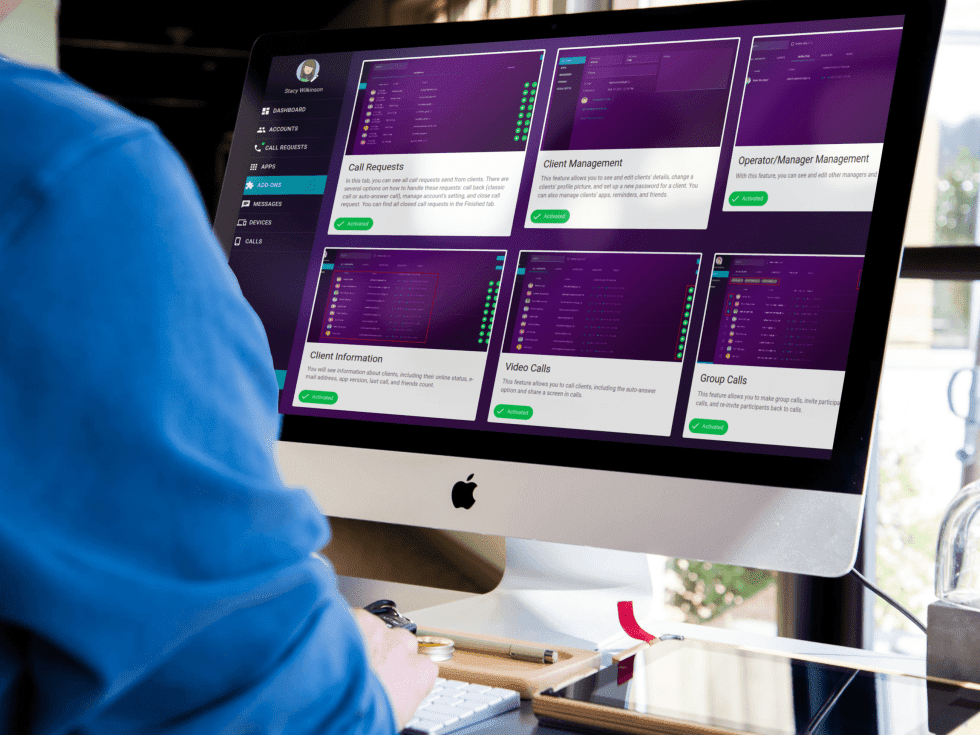 Customize Oscar Enterprise with Add-ons
Add-ons give you a smart overview of features you have already activated and features you haven't but are available for you. If you are interested in them, you can activate them.

Thanks to that you can extend and personalize our service to cover all your specific needs.
Features you can add on:
Call Requests - See all call requests send from clients.
Client Management - Manage clients' apps, reminders, friends, personal details, etc.
Operator/Manager Management - See and edit other managers and operators.
Client Information - Check information about clients, including their online status, e-mail address, app version, last call, and friends count.
Video Calls - Call clients, including the auto-answer option, and share a screen in calls.
Group Calls - Make group calls, invite participants to calls, and re-invite participants back to calls.
Folder App - Create your custom folders with apps of your choice.
HTTP API App - Create your custom apps using HTTP API calls.
Messages - Manage chat conversations and write messages.
Notifications - Send and receive notifications. You can send custom notifications to clients.
Devices - See all registered devices your care providers and clients are using.
Apps - Create, edit or remove custom apps. You can also edit apps in the clients' Settings tab.
Calls - See all calls made by your care providers and clients.
External Call Participant - Invite external participants to your calls.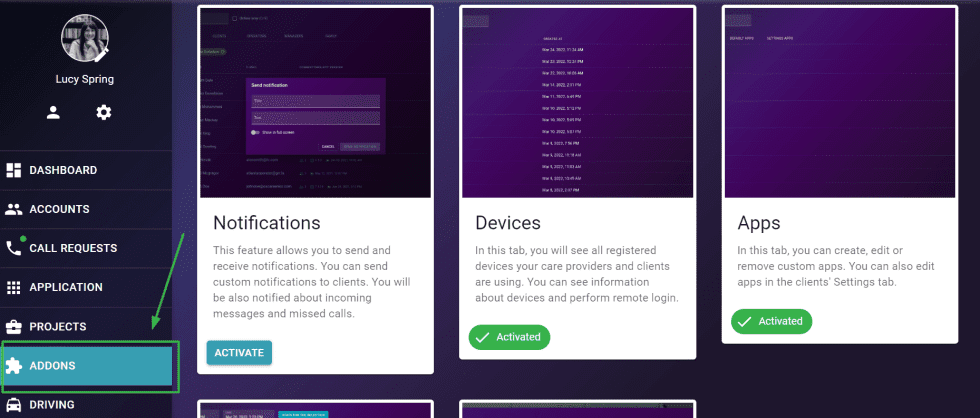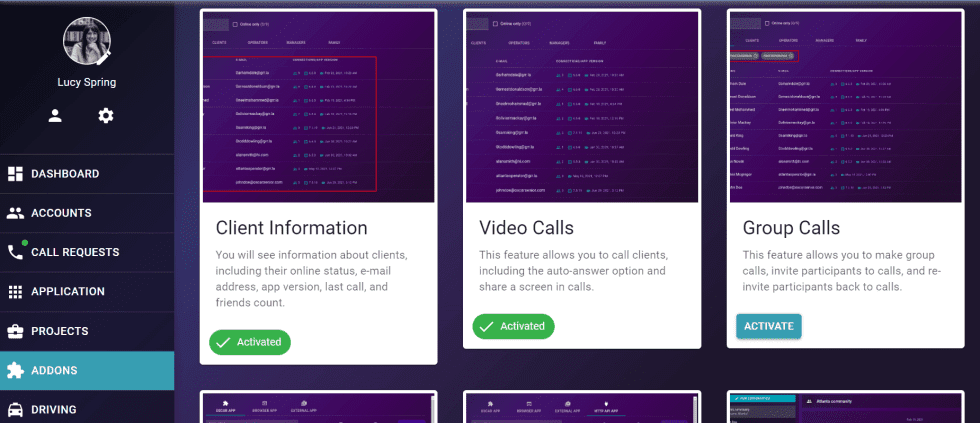 2. You can see list of all available add-ons.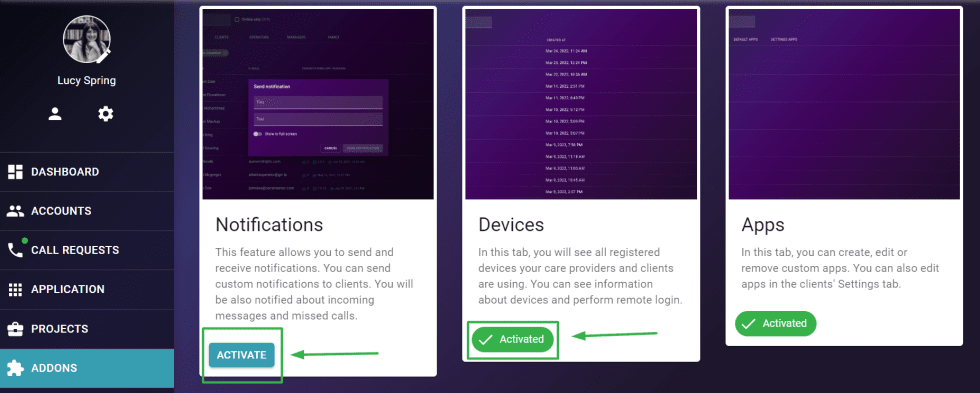 3. The ones you already have are marked as 'Activated'. You can ask for activation for features you don't have.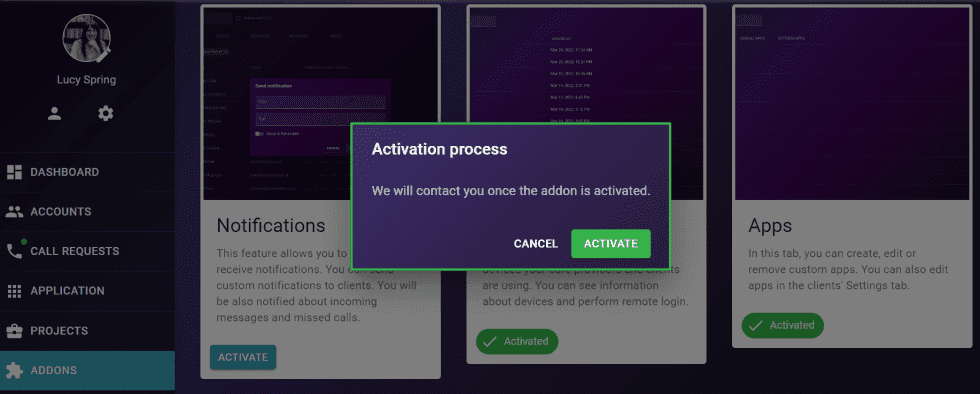 4. The e-mail will be delivered to our support. We will contact you soon about the activation as soon as possible.
Do you want to know more about Add-ons? Contact us.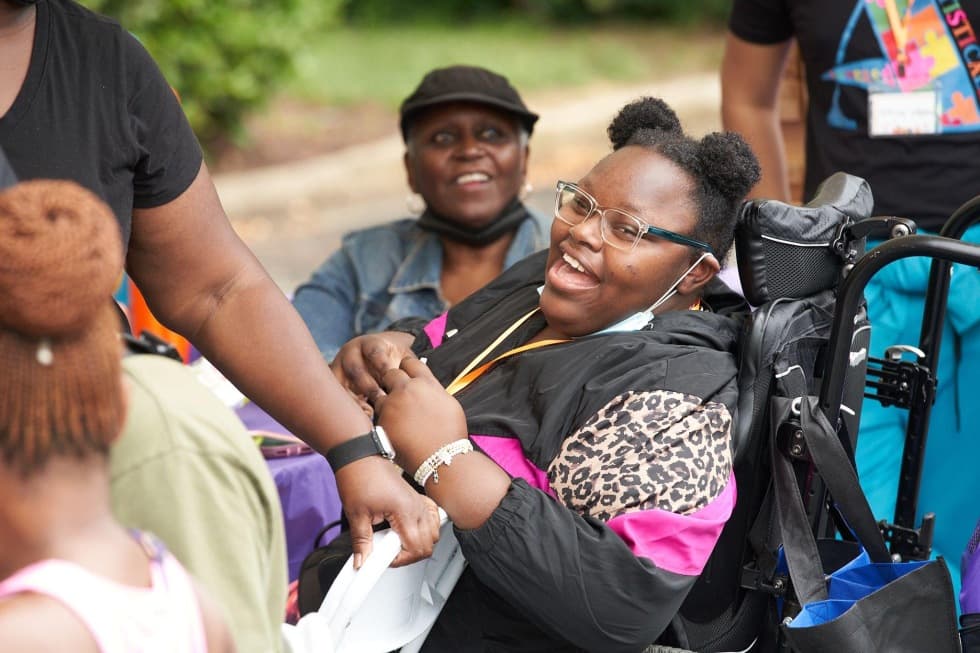 "We decided to implement remote care, especially for our folks to help them easily connect online together and individually. We saw the benefits in need of less staff while providing greater independence, more privacy, and less loneliness to them. And we managed to succeed. How? Get inspired by our story," shares Rob Malone, Executive Director, The Arc Prince George's County.

"Get inspired by the story of our home care organization Comfort Assisting and find out why we implemented remote care into our daily care routine and how it helped improve communication between our care providers and elderly clients, increase the effectiveness of visits, enhance clients' well-being, and provide customized content to our clients," shares her experience Barbara, CEO of Comfort Assisting.
The push of a single button on the sensor can be handled by touch, with poor eyesight and impaired fine motor skills.